Atlanta Outdoor Lighting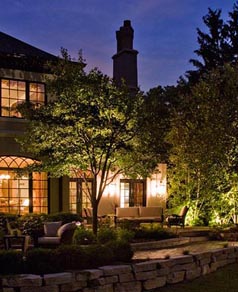 Outdoor lighting is also another important component of an overall landscape design. Outdoor lighting serves the important function of lighting your outdoor space making it safer to enjoy at night and less likely to be targeted by potential thieves. It can also be used to highlight different components of your landscaping such paths, driveways and water features. Lane Landscaping provides outdoor lighting for commercial and residential clients in Alpharetta and the communities north of Atlanta.
Cumming GA Landscape Lighting
Our landscaping company offers several different types of outdoor lighting including area lights, walkway or pathway lighting and outdoor lighting. Area lights or "flood lights" are used for security purposes. Walkway or pathway lighting is used to illuminate paths or walkways and make them safer to travel at night. Outdoor lighting is usually constructed of materials such as wrought iron or copper and can be used to illuminate landscape features such as koi ponds, flowerbeds, patios and retaining walls.
Dunwoody Landscape Lights
A good outdoor lighting plan can enhance the beauty of your outdoor space and make it a more enjoyable place to spend time. It can also increase the safety and security of your home or commercial property. Our landscape experts can develop an outdoor lighting plan tailored to fit your specific outdoor space, overall landscape design and your budget. 
At Lane Landscaping, the exceptional result we provide is matched only by our customer service.  If you hire our professional landscaping company to design and implement an outdoor lighting plan, you can expect professionalism and responsiveness, adherence to schedule, consistent and relevant communications, quality and attention to details. We are a locally owned and operated company and are fully licensed and insured for your protection.
Whether you simply need to add a few outdoor lights to your existing landscaping or you need an entire outdoor lighting plan, the professionals at Lane Landscaping can help. We handle jobs both big and small. Please contact our Atlanta Outdoor Lighting Experts us today so we can get started on your outdoor lighting plan. We look forward to earning your trust and your business.