Cumming Landscaping Services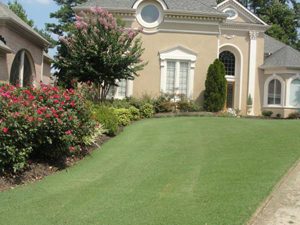 Lane Landscaping offers all of the services you need to design, implement and maintain a beautiful landscape for your home or commercial property.  We offer landscape design as well as lawn care and maintenance to residential and commercial clients.  We also handle patios/flagstone patios, hardscapes, retaining walls, sod installation, outdoor lighting, irrigation systems, drainage problems, planting programs and seasonal flowers, water features and swimming pool design. Whether you simply want to add a few elements to your existing landscape or you need a complete landscape design, our experts will partner with you to come up with a plan that suits your specific style and taste.
Alpharetta Landscaping Contractors
If you are in need of a landscape design, our landscape professionals will meet with you onsite, walk your property and talk with you about your preferences.  We can then come up with a custom landscape design tailored to fit your lifestyle and your budget.  Our experts can walk you through every step of your project from the design to its completion. 
Elements such as patios, retaining walls, hardscapes, privacy trees and water features can add both form and function to your outdoor living space. Our experts can recommend features that will add dimension to your existing landscape design.  The professionals at our landscaping company are experts in designing and building these types of landscape elements and use only the highest quality materials including brick, wood and stone and pavers.
Roswell Landscape Companies
If you are simply looking for a company to maintain your existing landscape, our Alpharetta based landscape company can come up with a schedule that meets your needs as well as your budget.  In addition to providing routine lawn care and maintenance, we can also help you with planting shrubs, groundcovers and trees as well as seasonal flowers.  Our experts can also design and implement an irrigation system that will ensure that your landscape receives enough water to thrive.  If you are currently experiencing draining problems, we can help with this too.  Our professionals are experts in solving even the toughest of drainage problems.
If you are looking for high quality landscaping and property maintenance services, please contact our Cumming Landscaping Service Professionals at Lane Landscaping today to schedule a free estimate.  We look forward to earning your trust and your business.
Service Areas include: