Roswell Seasonal Flowers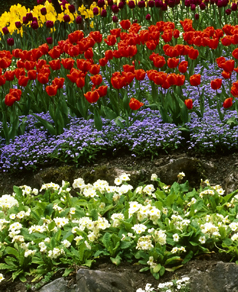 Season flowers add color and beauty to any landscape design. Lane Landscaping offers planting programs and seasonal flowers to commercial and residential clients in Alpharetta, Roswell and the surrounding communities north of Atlanta. 
The experts at our landscaping company can help you select shrubs, trees, groundcovers and seasonal flowers that will add beauty and dimension to your landscape design. Our professional landscapers are available to plant trees and shrubs in your lawn. We can also change out flowerbeds, hanging baskets, planters and window boxes with seasonal flowers.  If you want to plant a vegetable or herb garden, we can help with this too. Our planting programs include placing mulch or pine straw in flowerbeds and around trees and shrubs and replacing and replenishing it when needed.
Alpharetta Planting Programs
In addition to planting seasonal flowers, trees and shrubs, our landscaping company also offers routine lawn care and maintenance and many other landscaping services. We can come up with a maintenance plan that meets your needs as well as your budget. We offer weekly, bi-weekly and monthly plans.
Our lawn care and maintenance service includes the following:
Turf mowing to maintain a neat and level appearance
Edging of all areas where the turf meets sidewalks, bedlines and curbs during the growing season
Application of turf fertilizer, pre-emergent and post-emergent herbicides
Dunwoody Seasonal Plantings
At Lane Landscaping, the exceptional result we provide is matched only by our customer service.  If you hire our professional landscaping company to plant trees, shrubs or seasonal flowers, you can expect professionalism and responsiveness, adherence to schedule, consistent and relevant communications, quality and attention to details. Our landscaping company is locally owned and operated and is fully licensed and insured for your protection.
If you are interested in one of our planting programs, please contact our Atlanta Seasonal Flowers Specialists at Lane Landscaping today to schedule a consultation. We look forward to earning your trust and your business.