Atlanta Retaining Walls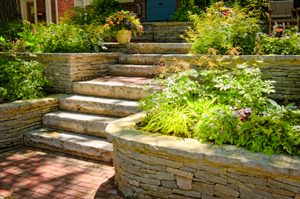 Retaining walls provide both form and functionality to an overall landscape design and can be used to create steps or level areas on a sloped surface. They also add visual interest and dimension.  Lane Landscaping designs and builds high quality retaining walls for commercial and residential clients in Alpharetta and the communities north of Atlanta.
Building a retaining wall is not an easy task. Many factors such as structural soundness and adequate provisions must be considered in order to solve potential drainage problems. When it comes to retaining walls, you need an expert with significant experience to ensure that the job is done correctly.
Cumming GA Retaining Wall Repairs
The professionals at our landscaping company are experts in designing and building retaining walls that are both attractive and structurally sound. Our retaining walls can range from very simple to extremely ornate depending on the materials used. We offer retaining walls in a wide variety of designs, textures and materials including brick, wood, stone and concrete. Our Alpharetta based landscaping company also repairs damaged retaining walls for commercial and residential clients.
If you are interested in finding out more about how a retaining wall can be incorporated into your overall landscape design, call Lane Landscaping today to schedule an appointment. We are certain we can come up with a design for a retaining wall that will improve the functionality of your lawn and enhance the beauty of your outdoor space.
Duluth Retaining Wall Contractor
In addition to retaining walls, our landscaping company also designs and builds hardscapes and water features for commercial and residential clients. We offer hardscapes and water features in variety of designs and build them using high quality materials including wood, stone, brick, pavers, slate and more. 
At Lane Landscaping, the exceptional result we provide is matched only by our customer service. If you hire our professional landscaping company to design and build a retaining wall, you can expect professionalism and responsiveness, adherence to schedule, consistent and relevant communications, quality and attention to details. We are a locally owned and operated company and are fully licensed and insured for your protection.
For retaining wall design, construction or repair services, please contact our Atlanta Retaining Wall Experts at Lane Landscaping today to schedule an appointment. We look forward to earning your trust and your business.