Drainage Solutions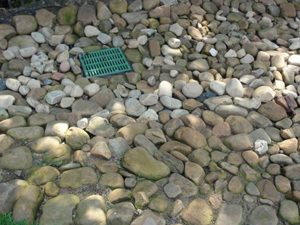 Standing water left in your lawn after heavy rainfall cause a variety of problems including dying grass, muddy soil, wilting shrubs and water logged plants. It can also create a breeding ground for mosquitoes. If left untreated, drainage problems can destroy the health and beauty of your lawn and your landscaping. Lane Landscaping solves drainage problems for commercial and residential clients in Alpharetta and the communities north of Atlanta. 
Roswell GA Drainage Problems Solved
Before you can effectively solve any drainage problem, you must first determine the source of the problem.  There are many possible solutions for drainage problems.  If the problem is inadequate grading then you must find a way to redirect the drainage to a lower part of your yard.  Our landscape professionals are experts in leveling soil, installing French Drains, retaining walls, drainage ditches, dry wells and catch basins. We will determine the most effective and most economical solution and then fix the problem.
Sometimes the solution for a drainage problem may be simple and inexpensive.  Some are handled as easily as tweaking your landscape design. Our landscaping company handles a full range of drainage problems from minor water issues to major storm-water problems. 
Alpharetta Yard Erosion Solutions
At Lane Landscaping, the exceptional result we provide is matched only by our customer service. If you hire our professional landscaping company to solve your drainage problem, you can expect professionalism and responsiveness, adherence to schedule, consistent and relevant communications, quality and attention to details. Our landscaping company is locally owned and operated and is fully licensed and insured for your protection.
In addition to handling your drainage problems, our Alpharetta based landscaping company also designs and implements irrigation systems for commercial and residential clients. We specialize in sprinkler systems, master valves, PRV valves, rain sensors and irrigation trenches. Whatever your needs, we can design a system that will be effective and easy to maintain.
If you are currently experiencing drainage problems in your landscaping, please contact our Atlanta Drainage Solutions Experts at Lane Landscaping today.  We look forward to earning your trust and your business.