Atlanta Landscape Design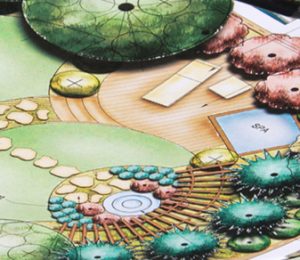 Your landscaping is the first impression people have of your home or commercial property.  A well-designed and implemented landscaping plan can greatly increase the curb appeal of your home or commercial building and increase its property value. The right landscape design can also provide you with an outdoor living space that will provide endless hours of enjoyment.  The experts at Lane Landscaping want to partner with you to come up with the perfect landscape design to fit your specific style and taste as well as your budget.
Alpharetta Landscape Architect
At our landscape company, we handle jobs both big and small.  Whether you need an entirely new landscape design or you just want to incorporate a few water features or hardscapes into your existing landscape design, we can help. Our landscape professionals will meet with you onsite, walk your property and talk with you about your preferences.  We can then come up with a custom landscape design tailored to your property. Our experts will be there with you through every step of your project from the design to its completion. 
Dunwoody Landscape Plans
Elements such as patios, retaining walls, hardscapes and water features are important components of a complete landscape design and can add both form and function to your outdoor living space. The professionals at our landscaping company are experts in designing and building these types of landscape elements and use only the highest quality materials including brick, wood and stone and pavers.
At Lane Landscaping, the exceptional result we provide is matched only by our customer service.  If you hire our professional landscaping company, you can expect professionalism and responsiveness, adherence to schedule, consistent and relevant communications, quality and attention to details.  We are a locally owned and operated company and are fully licensed and insured for your protection.
Contact our Atlanta Landscape Design Experts at Lane Landscaping today so we can get started on your landscape design. We look forward to earning your trust and your business!
Service Areas Include: