Atlanta Hardscapes Contractor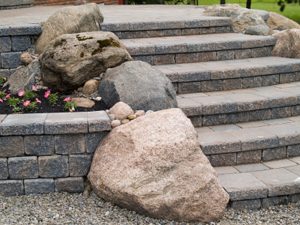 Hardscapes can be simply defined as landscape elements that are not soft and can range from planters and benches to paving materials. Hardscapes are an important component of a complete landscape design and can add both form and function to your outdoor living space.  Lane Landscaping designs and builds high quality hardscapes for commercial and residential clients in Alpharetta and the communities north of Atlanta. 
Cumming GA Hardscape Design
Our landscaping company offers hardscapes in a wide variety of designs, textures and materials. We can recommend hardscapes that will add dimension to your existing landscape design and make your outdoor living spaces more enjoyable.  The professionals at our landscaping company are experts in designing and building these types of landscape elements and use only the highest quality materials including brick, wood and stone and pavers.  This includes the design and construction of retaining walls that are attractive and effective.
In addition to hardscapes, Lane Landscaping also designs and builds water features to complement a new or existing landscape design.  We specialize in building water features such as koi ponds and fountains that add beauty and a sense of tranquility to outdoor spaces.  We also use high quality materials such a brick, stone and slate to construct water features from commercial and residential clients.
Alpharetta Hardscape Installation
At Lane Landscaping, the exceptional result we provide is matched only by our customer service.  If you hire our professional landscaping company to design and build your hardscapes, you can expect professionalism and responsiveness, adherence to schedule, consistent and relevant communications, quality and attention to details.  We are a locally owned and operated company and are fully licensed and insured for your protection.
If you are interested in adding hardscapes to your landscape design, please contact our Atlanta Hardscapes Contractors at Lane Landscaping a call today.  We look forward to earning your trust and your business!